Frustration on the golf course is not confined to a bad drive or sliced iron.
What If ?
You didn't have to search for your next iron.
You didn't have to fight to remove or replace your irons.
You could remove that irritating, damaging clatter.
You didn't have the worry of leaving clubs on the tee/green.
Wouldn't you relax just that little bit more.

The heart of Pro Caddy is a clever component which nests the head of the golf club in a known position and provides fixing features for further units.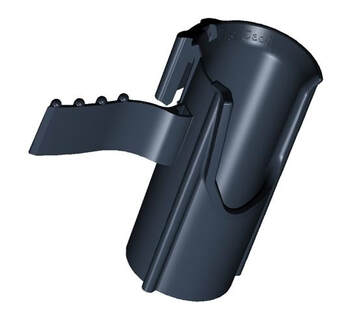 Pro Caddy is designed for your set of Irons in an easy to assemble format that bridges dividers, making it suitable for most medium to large bags.

The set consists of 9 devices that link together, they are numbered No.3 to No.9 Irons, Pitching Wedge and Sand Wedge though the set of 9 can be tailored to suit specific needs

Pro Caddy's simple construction allows you to attach a number of protector tubes together within your bag. Each tube clips to the next in one of three positions, either next to the last tube, or spaced to fit over dividers. It's Pro Caddy's flexibility to cater for a wide range of divider layouts, which makes it ideal for a wide range of bags.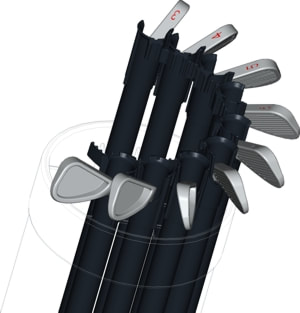 Pro Caddy is an Innovative New Iron club organiser, which doesn't change the way irons are identified and retrieved from your bag. (You still locate the numbered club, grasp the head and withdraw it), However, not having to rummage to find the right loft and fight to withdraw only one club is a distinct advantage.
Pro Caddy:
Protects the shafts of expensive clubs.
Eliminates shaft tangle.
Greatly reduces club head collision.
Presents your irons in number/size order.
Fits a wide range of bag/divider layouts.

Price £10 for a set of 9